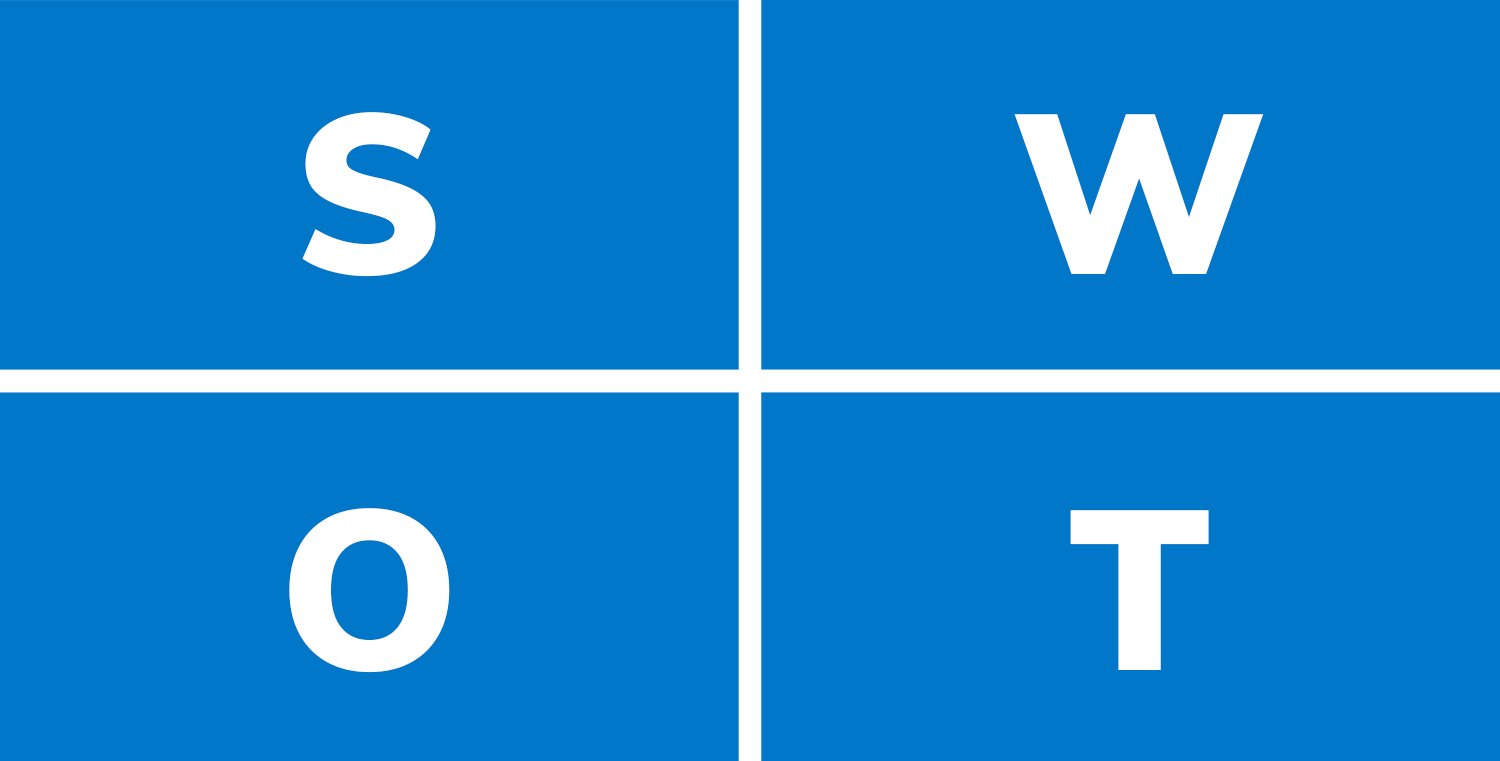 The SWOT (Strengths, Weaknesses, Opportunities, Threats) Analysis is still the go-to tool to create a business that survives, scales, and succeeds.
I like a good SWOT analysis. There's something powerful about having your team around the table, throwing their excitement, concerns, research, and creative ideas together to help make a strong business decision—whether it's for ourselves at Percipio or for any of the companies in our portfolio.
Analyzing your Strengths, Weaknesses, Opportunities, and Threats is still one of the best ways to create a big picture view of your business—and now is always a good time to do one.
Here's how to do it better.
Understand the SWOT parts.
Knowing what SWOT stands for isn't enough. Everyone who contributes to this exercise should know how this tool is meant to work and how internal and external factors are incorporated and balanced.
Strengths (S) and Weaknesses (W) are internal factors. These refer to the resources and experience readily available to you (even if you haven't tapped or developed them yet).
Examples of internal factors are
Financial resources, like your sources of income, investment capital, and other funding.
Human resources, like your team, your audience, and your customers
Processes and procedures, like your templates, workflows, and automation.
Physical resources, like your location, equipment, and facility.
Natural resources, where you benefit from your native environment.
Opportunities (O) and Threats (T) are external factors. These forces influence every company and leader in one way or another, directly or indirectly, positively, or negatively. These are things you can't control.
Examples of external factors are:
Threats in the marketplace, like new tech, products, global needs, audience preferences.
Economic threats, like regional or international finances.
Political threats, like government funding, legislation, regulations.
Funding and Investment threats that affect access and availability of capital.
Network threats, like relationships with suppliers and partnerships with other businesses.
Use the above to get the creative and analytical juices flowing, but make sure you…
Never SWOT alone.
As the business owner, you should absolutely be involved in creating a SWOT analysis for your company. While you are an important voice in the room, it's equally important that your words aren't the only ones on the page.
Involve your company leaders. Crowdsource ideas from your folks on the front lines. Have discussions with your peers and your business coach. Write down all the ideas you get and foster an open discussion about the contributions. Then rank or whittle them down to the most relevant and critical.
This collective knowledge and perspective will give you the multidimensional view your company needs (and deserves) as you make the next decision or plan the next course.
Make sure to SWOT in a box(es).
There's a reason why this method has been largely unchanged since Albert Humphrey created it in 1960—because it works.
While you may be tempted to create a SWOT in a list form, I'd challenge you to keep the boxes as intended, with Strengths and Weaknesses paired over Opportunities and Threats.
This allows you to analysis critical sections side-by-side and one-over-one in a single glance—something that's particularly helpful when pairing internal weaknesses with internal threats.
Tip: A great way to make this work in a round table is with oversized sticky notes, which allows you to pair and compare the lists however you please. This allows you to evaluate the important aspects of your business from all angles and perspectives.
Don't stop the SWOT too early.
Once you filled out all the boxes and feel good about what you've captured, you're about halfway done. Because it's not just a SWOT. It's a SWOT analysis.
At this point, it's time to review and come up with some strategies and informed recommendations. The question to answer is: How can we leverage our strengths and opportunities to overcome our weaknesses and threats?
(This is another reason why keeping your lists on movable sheets is helpful).
This is the point where companies have a chance to be creative, proactive problem-solvers. Innovation emerges. Evolution occurs. And, in the end, a sound strategy rises from the bullet lists.
The benefit of the SWOT tool is that it forces companies to evaluate objectively, methodically, and intentionally what they have to work with internally in the context of the external driving factors. It turns a business strategy into an action plan—one that has a keen awareness of all the variables and the reasons for moving forward.
Shouldn't your business decisions be that accurate—and just as satisfying?